Complete a Full Driver's Ed Classroom Program in 2 weeks!
Are you too busy during the school year to complete driver's ed? Our Summer Accelerated Program is the perfect solution! In just two weeks, you can get 30 hours of driver education classroom sessions done and have the rest of your summer free to complete behind the wheel training, hang out with friends, or work a summer job.
All classes are taught live on Zoom, so you can complete class sessions from the comfort of your own home. These classes are wildly popular and typically sell out. We have added even more accelerated class schedules than previous years but don't wait, enrollments are still limited!
The first Summer Accelerated session begins June 5 and the last class begins August 14.

If the accelerated class is not a fit, we will have plenty of regular paced class options available!
Summer Accelerated Course Guidelines:
For all teens (16-17), you can not take more than 4 hours of Driver's Education (2 classes / 1 class + 1 BTW a day per the DMV regulations) during the summer. Once summer is over, and school is in session, you can only take 1 classroom per day and 1 BTW per day.

Adults (18+) can take up to 8 hours of Driver's Education per day no matter the time of year.

For all students you cannot take more than 1 BTW lesson per day.

If you need makeup sessions, you will need to schedule them for classes outside of your normal accelerated schedule. This will result in different times, zoom links, and instructors. Check your portal for the correct information. Makeup classes in the summer can be hard to find - we recommend sticking to your schedule as much as possible.

Driving lessons are scheduled separately outside of classroom hours by you in the student portal.

License testing is not included in the bundle.

Program completion is not guaranteed by the end of August (Program=classroom sessions AND behind the wheel lessons. See below for more info.)
FAQs
Q: What if I can't make a class?
A: If you can't make one of your accelerated class sessions or all of your sessions on a particular day, you can make them up. However, your makeup class will be a regular paced class session (2 hour stand alone class) We caution against missing classes if you can avoid it as makeups in the summer can become difficult to find. If you need help rescheduling a class, please call 860-631-4292.
Q: When can I book my behind the wheel lessons appointments?
A: As soon as you have your permit you can start booking your behind the wheel lesson appointments in the student portal.
Q: When will I complete my behind the wheel lessons?
A: Your behind the wheel lesson schedule is subject to availability. Our lessons typically book out 8-12 weeks or longer in summer (Sorry, it's crazy busy here once school is out!) Students typically try to space their lessons throughout their eligibility period in order to practice the driving skills learned at each lesson (120 days from date of permit issue for 16 & 17 year olds that complete a full 30 hours of coursework=one 2 hour lesson per month)
Q: Will I complete my entire Accelerated Program by the time school starts?
A: As long as you don't have to cancel & reschedule a lot of classes, getting classroom sessions completed should be no problem. It is not a guarantee that you will complete your entire program (30 hours of classroom AND 8 hours of behind the wheel lessons) before summer ends. All scheduling is subject to availability and is first come first served.
Q: Do you offer payment plans?
A: We do! You can purchase your full course bundle and any additional products (like a license test 😉) with a flexible payment plan offered by Paypal. For more info on payment plans click here.
Q: Can a parent join Session 1 from a separate device?
A: It is preferred that the parent and student attend class together on the same device. If there is absolutely no way for the parent and student to be together physically, parents can join from a separate device.
Q: Do you offer 8 hour Safe Driving Classes in the Summer?
A: Sure do! We have two day and four day classes running all summer and starting every weekend. Click here for schedules.
Q: When can I take my license test?
A: If you're under 18 and have completed a full driver's ed program (30 hours of classroom AND 8 hours of BTW lessons), you're eligible to test 120 days from the day that you got your permit. Per DMV regulations, you must complete all classroom sessions and driving lessons purchased at least 5 days before your test date. For more info on testing click here.
Check out the example schedule below - class times and days vary. To find a Summer Accelerated class schedule that fits yours, click here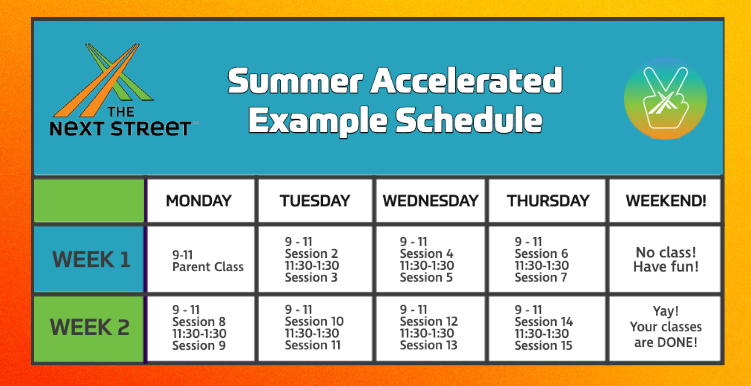 ---